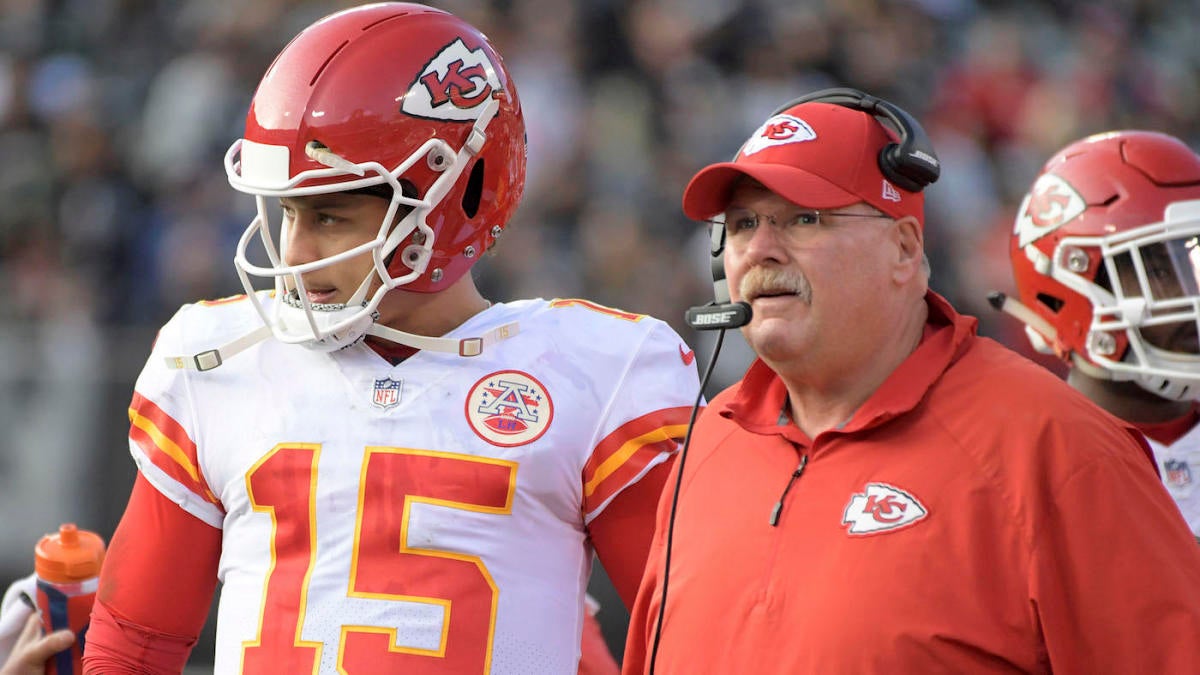 Patrick Mahomes' record-setting contract extension will keep him in Kansas City through the 2031 season. And while Mahomes' future with the Chiefs is all but secured, the same can't be said of coach Andy Reid, who has only two years remaining on his current contract.
Reid, speaking to reporters during a joint virtual press conference (which also included Mahomes) on Tuesday, said that he would certainly be open to continue coaching throughout the duration of his quarterback's contract. The 62-year-old Reid, who broke into the NFL as a Green Bay Packers assistant in 1992, is entering his 22nd season as an NFL head coach. Last season, Reid won his first Super Bowl as a head coach, as his Chiefs came from behind to defeat the 49ers in Super Bowl LIV.
"I haven't gotten to that point mentally where I'm thinking about retirement," said Reid, the 2002 NFL Coach of the Year. "I love doing what I'm doing. One of the great things about this job is when you look forward to coming to work [to see] the players and coaches. I'm lucky enough to be around good players and coaches. And this guy here (Mahomes) makes it even better. We always talk about the great quarterbacks make everybody around them greater, and he has the unique ability to do that with his teammates … If it takes me into my '70s, let's roll. Doggone it, I'm ready to go."
Reid's desire to continue coaching was welcomed news for Mahomes, who has flourished under Reid's system during his first two seasons as the Chiefs' starting quarterback. Since the start of the 2018 season, Mahomes has completed nearly 66% of his passes with 76 touchdowns and 18 interceptions during the regular season. This past postseason, Mahomes threw 10 touchdowns against just two interceptions while leading Kansas City to its first Super Bowl win in 50 years.
"I think trust is something that's built, and I feel like with my three years that I've been in the Chiefs organization, you see the trust that everyone has within each other," Mahomes said. "Everything that Coach Reid says, everything that (GM Brett) Veach says and everyone in the organization says, those things happen. They put in the work every single day. It's like a challenge if I can try beat Coach Reid or Veach to the facility. They put in as much effort as anyone. When you have a culture like that … that trust and that culture is something that I want to be a part of."
While Reid's current credentials are worthy of a spot in Canton, Ohio, another decade of coaching will likely put him into a very elite category of all-time coaches. With another Super Bowl win, Reid would join Mike Shanahan, Don Shula, Bill Belichick, Tom Landry, Chuck Noll, Bill Parcells, and Tom Coughlin as the only coaches in league history with 175 wins and two Super Bowl titles. Shula, Landry, Noll, and Parcells have received induction into the Pro Football Hall of Fame, while Shanahan was recently selected into the Broncos' Ring of Fame.
This season, Reid, who has averaged about 10 wins a season thus far, is slated to move past Hall of Fame coach Paul Brown for sixth all-time in the career wins list. If he averaged 10 wins a season for the next decade, Reid would become a member of the exclusive 300 win club, a club whose current members are Don Shula and George Halas. Bill Belichick, who enters the 2020 season with 273 career wins, is also knocking on the door of that exclusive club.
While the coaching profession has tended to trend more on the younger side in recent years, the league has had several coaches enjoy success later in life. Dick Vermeil, who won his first and only Super Bowl at age 63, led the Chiefs to a 10-6 record before retiring at age 69. Joe Gibbs, following a 12-year hiatus from coaching, returned to lead Washington to a pair of playoff seasons before retiring for good at age 67. Tom Coughlin won both of his Super Bowls after turning 60, while Belichick, who is also showing no signs of slowing down, holds the record as the oldest head coach to hoist the Lombardi Trophy, doing so at age 66.
Reid and Mahomes may also challenge the list of the greatest coach-quarterback duos in league history, a list that includes Belichick and Tom Brady, Brown and Otto Graham, Vince Lombardi and Bart Starr, Noll and Terry Bradshaw, and Walsh and Joe Montana. While it will take some time to challenge the accomplishments of these iconic duos, it appears that time is something Reid and Mahomes have on their side.