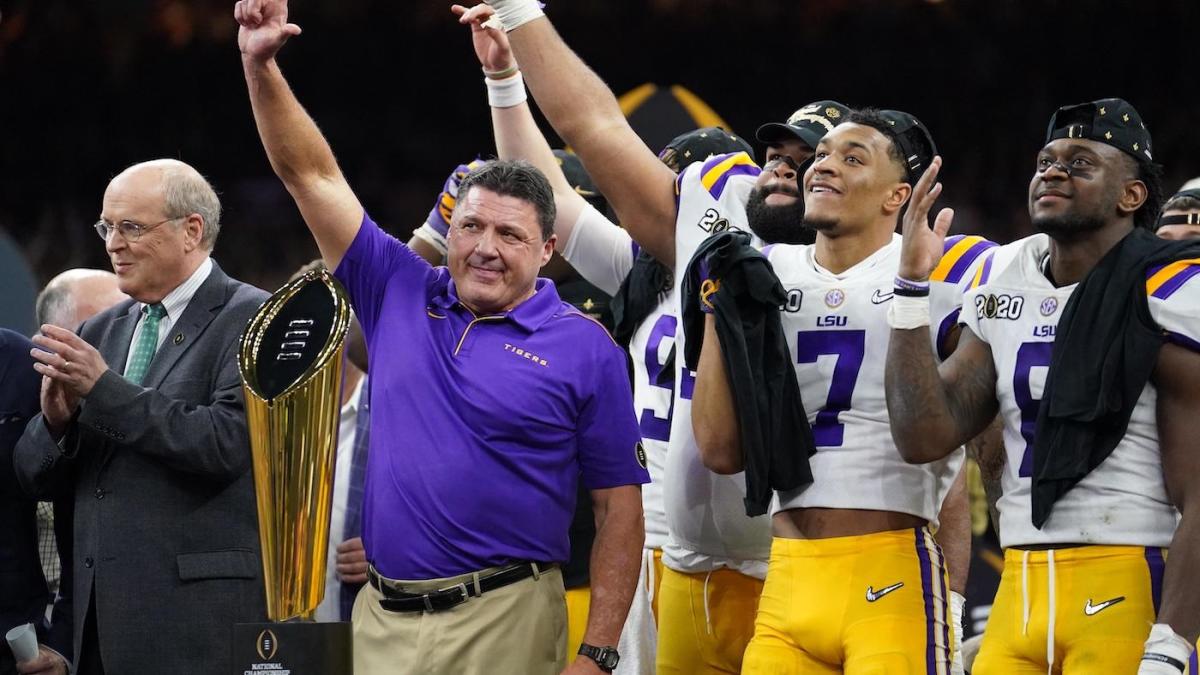 LSU has seen several high-profile wide receivers filter through the program over the last decade, including Odell Beckham Jr., Jarvis Landry, Justin Jefferson and Ja'Marr Chase. Coach Ed Orgeron got a commitment from a star prospect on Friday who could be the next in line.
Chris Hilton, a four-star prospect and the No. 65 overall player in the Class of 2021, committed to the Tigers over Alabama, Texas A&M, Georgia and other high-profile suitors. The 5-foot-11, 169-pounder from Zachary (Louisiana) High School got a big reaction from Orgeron.
Hilton showed his athletic ability at a regional camp for The Opening in 2019. He posted a verified 4.45-second 40-yard dash, 4.33-second shuttle run and a 36.4-inch vertical jump. He has been a part of two straight 5A state championship teams and won the state indoor high jump championship with a leap of seven feet in 2019.
Gabe Brooks, midland region recruiting analyst for 247Sports, provided this scouting report on the newest LSU commit.
"Athletic receiver prospect with adequate height and a lean, athletic build that can hold more weight with continued physical development. Probably won't be a "big" receiver, but will own enough size to be a dangerous ball-winner when needed, especially when considering athletic ability. Louisiana Class 5A state champion high-jumper as a freshman. Verified 40 time at 4.45 as a sophomore. Instinctive player with body control who adjusts well to the ball when needed. Almost gravity-defying ability to hang in the air for jump balls. Good ball-tracking ability on deep routes. Capable of getting separation quickly downfield and in short game. Will need to continue bulking up to ease transition to college level. Willing blocker but must add strength. Occasionally takes false steps at the snap. One of the top prospects in Louisiana's 2021 class, regardless of position. Owns long-term early-round NFL Draft potential."
Hilton is LSU's 14th commitment of the 2021 recruiting cycle and the highest-ranked wide receiver in its class. The Tigers now rank No. 7 overall and No. 2 in the SEC in the updated 247Sports Composite team rankings.