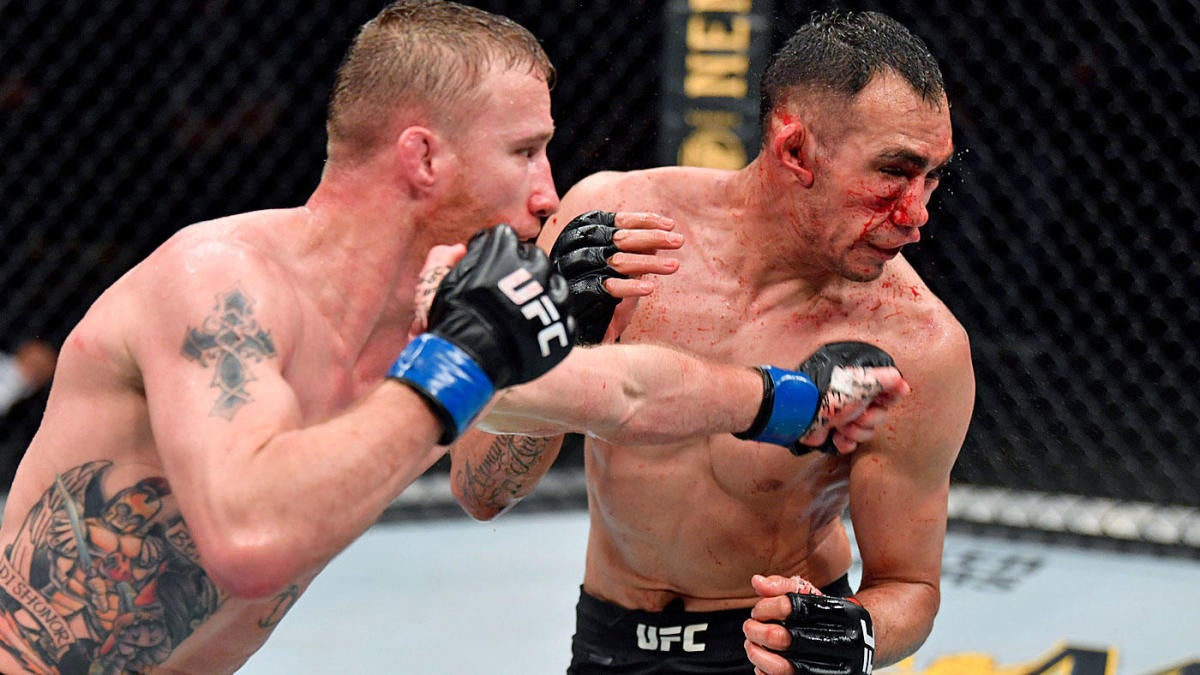 In the main event of UFC 251, Jorge Masvidal will step into the Octagon to face welterweight champion Kamaru Usman under the most unique circumstances in UFC history. Usman vs. Masvidal was always the fight, but it was Gilbert Burns who got the call when negotiations broke down between Masvidal and the promotion. But Burns tested positive for COVID-19 and was pulled from the card, leading to Masvidal saving the day as the UFC heads to Fight Island.
The fight came together with less than a week until the two would step into the Octagon, and requires a series of COVID-19 tests, quarantine periods and an international flight to Abu Dhabi, where Fight Island is actually Yas Island.
After all the hurdles, it will all come down to a fight between the two top welterweights in the UFC. Masvidal will have to overcome not having a true training camp and the chaos of the situation to pull off a historic win. But he's not the first talented fighter to face that uphill battle. And some of the best to ever step into the Octagon have been able to shine in these moments in the past.
Can't get enough UFC? Subscribe to our podcast State of Combat with Brian Campbell where we break down everything you need to know in the Octagon, including an in-depth preview of UFC 251 with Hall of Famer 'Suga' Rashad Evans below.
Let's take a look back at three iconic times a fighter took the risk of a late-notice fight and came out with a win.
Justin Gaethje def. Tony Ferguson — UFC 249
Confusion surrounding how the UFC would move forward during the COVID-19 pandemic set off a series of events that led to Gaethje becoming interim lightweight champion. First, the event, which was to be headlined by Ferguson challenging Khabib Nurmagomedov for the lightweight title, lost the planned venue of Barclays Center in Brooklyn. Then, with the champ unsure about the location of the fight, he returned to Russia to be with his family, only to be stuck as travel was locked down. The UFC booked Gaethje into the interim title fight and tried to hold the fight on Native American land in California, only for ESPN and Disney to pressure the UFC to stop with those plans. UFC postponed the event and moved its shows to Jacksonville, Florida, three weeks later.
Gaethje, despite not having a real camp, went on to batter Ferguson — who entered the night riding a 12-fight winning streak — throughout the fight. By the fifth round, Ferguson's incredible chin finally began to crack and he began to react to the crushing shots landing on his swollen, bloodied face. Gaethje winning was a surprise, but the level of dominance over an elite fighter with very little time to prep was unfathomable. Maybe it was the stress of Ferguson not knowing who or when he'd be fighting. Maybe it was an unnecessary weight cut Ferguson took on during the delays to prove a point. Or maybe it was simply that Gaethje is far and away the better man. Whatever the reason, Gaethje's win was one of the biggest standout performances in UFC history.
Nate Diaz def. Conor McGregor — UFC 196
Few fights in UFC history have had everything come together so perfectly with as shocking a result as the first fight between Nate Diaz and Conor McGregor. On just 11 days notice, Diaz stepped in after an injury to Rafael dos Anjos derailed McGregor's plans to challenge for the lightweight title. After Jose Aldo and Frankie Edgar were ruled out as replacements, Diaz was called in to face McGregor in a welterweight fight. While UFC president Dana White told fans Diaz was training for a triathlon, Diaz would later reveal that he was "on a yacht in Cabo getting my chillax on with my dude Gilbert Melendez."
After a series of press conferences with both men delivering great quotes, the two stepped into the cage on March 5, 2016. McGregor unloaded in Round 1, blasting Diaz with left hands and kicks and cutting the Stockton, California native. Diaz came roaring back in Round 2, landing his own left hand repeatedly as McGregor wore down from his high output in the opening frame. Eventually, Diaz locked in the fight-ending rear-naked choke, shattering McGregor's aura of invincibility and becoming a superstar in the process before delivering his iconic post-fight quote. "I'm not surprised, motherf—er."
Michael Bisping def. Luke Rockhold — UFC 199
In November 2014, Luke Rockhold submitted Michael Bisping in a Fight Night main event. It was yet another stumble against "elite" middleweight competition for Bisping, who had built a great career while never quite breaking through to title contender status. Twice, Bisping lost title eliminators and had a title shot slip from his grasp. After the first Rockhold fight, Bisping rattled off three consecutive wins when things broke his way. Chris Weidman suffered an injury and had to pull out of a fight with Rockhold, who was now middleweight champion. Bisping got the call for a rematch on 17 days notice and his first shot at a title in his 26th UFC bout.
Ahead of the fight, Bisping told Sirius XM, "Listen, I'll put it like this. If people can walk around — and I don't mean this in a disrespectful way to religious people — and you believe the son of God came down to earth 2,000 years ago, and he killed himself for our sins, and he can walk on water, and there's a God up there looking after ourselves, and if you get on your knees and pray to him that things will change, if you can believe that, then you can believe that I can knock the f–k out of Luke Rockhold two weeks from Saturday." He would do just that, taking less than one round to finish Rockhold and win the middleweight championship in a shocking upset.