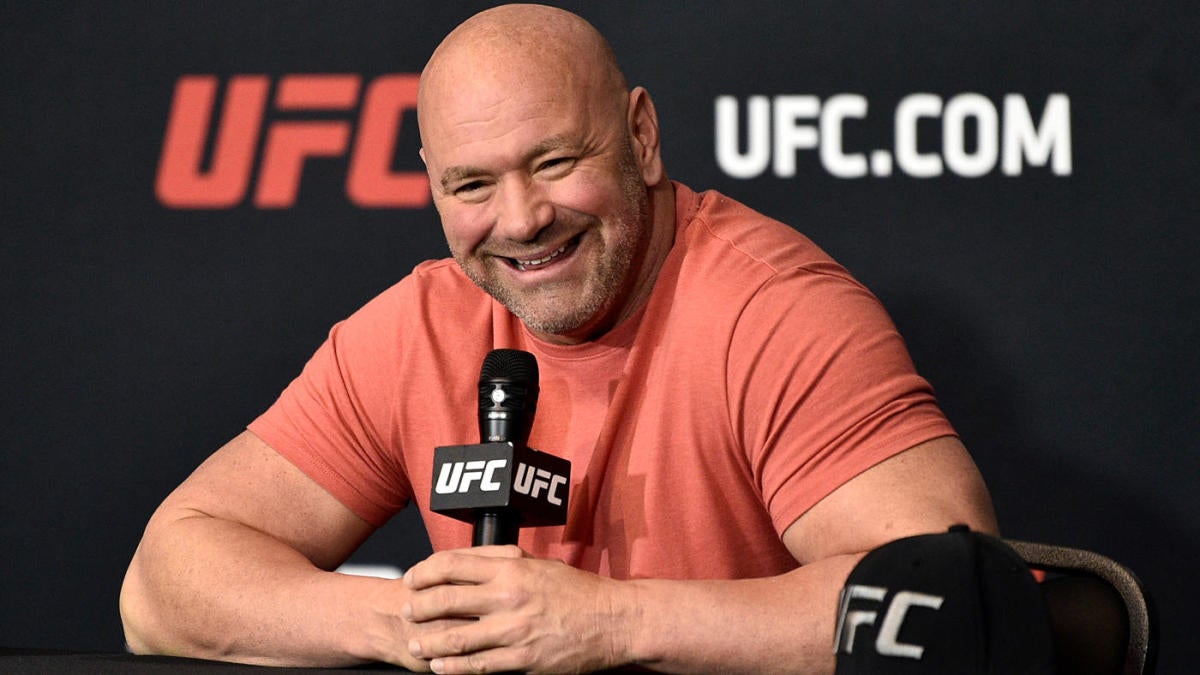 If there were early heroes to the unprecedented coronavirus quarantine that began in March and effectively changed the way society operates for a still undetermined amount of time, they were fleeting.
We were entertained by the likes of Joe Exotic and Michael Jordan through distracting documentaries. We were also appreciative of entrepreneurs like everyone from our local liquor store owner to whoever created Zoom for figuring out how to help us retain some form of normalcy.
Very few, however, have had a quarantine resume quite like Dana White, who pulled off his greatest trick of all early Monday by somehow upgrading the main event of an already loaded UFC 251 card on Saturday in Abu Dhabi.
Can't get enough UFC? Subscribe to our podcast State of Combat with Brian Campbell where we break down everything you need to know in the Octagon, including an in-depth preview of UFC 251 with Hall of Famer 'Suga' Rashad Evans below.
Let's not forget, the UFC president was rightfully labeled a reckless maverick when he bucked the trend of what was seen as irresponsible stewardship to declare the show must go on at all costs. Then, there were the low points, including his infamous "Come get me corona!" interview with Yahoo Sports in March and a failed attempt at promoting cards on Native American ground in California, which forced an intervention from UFC's television rights holder ESPN (and parent company Disney) to respect state regulations.
White and company eventually figured it out. Beginning in early May with a 10-day experimental start in Jacksonville, Florida, the promotion became a forerunner for professional sports regarding not just how to stay in business throughout the pandemic but to thrive while doing so responsibly thanks to its commitment to high-priced testing (and the "safe zone" UFC created on Yas Island for a four-pack of fight cards over the next two weeks).
Never one to care about critics, White endured it all and stayed on task, even with the protests of many big-name UFC fighters, including BMF champion Jorge Masvidal, dominating the headlines about fighter pay. Now, just a few weeks later, even Masvidal has decided to lay down his arms and join the cause by lending his pay-per-view star power as the replacement for Gilbert Burns against welterweight champion Kamaru Usman.
For his ability alone to keep UFC front and center as the sports league of record throughout the uncertainness of the pandemic, White deserves to be named quarantine MVP by fight fans. But the upgrade to Usman-Masvidal is the gratuitous icing on the cake.
Professional team sports have struggled to even make it back to training camp let alone put on must-see events. Even boxing, which admittedly operates under a much more disorganized organizational structure than UFC, has presented cards with subpar matchmaking and seen both injuries and positive COVID tests destroy many of the fights worth watching.
UFC just keeps rolling. The dysfunction of the quarantine, where fighters don't get paid unless they perform, has opened up doors for those more opportunistic and hungry than others. The results have been a series of incredible fights and cards with nary a mention of dipping quality given the circumstances.
Fan-friendly fights during quarantine
| Fight | Weightclass | Date |
| --- | --- | --- |
| Justin Gaethje vs. Tony Ferguson | Interim lightweight title | May 9 |
| Henry Cejudo (c) vs. Dominick Cruz | Bantamweight title | May 9 |
| Francis Ngannou vs. Jair Rozenstruik | Heavyweights | May 9 |
| Tyron Woodley vs. Gilbert Burns | Welterweights | May 30 |
| Aljamain Sterling vs. Cory Sandhagen | Bantamweights | June 6 |
| Dustin Poirier vs. Dan Hooker | Lightweights | June 27 |
| Kamaru Usman (c) vs. Jorge Masvidal | Welterweight title | July 11 |
| Alexander Volkanovski (c) vs. Max Holloway 2 | Featherweight title | July 11 |
| Deiveson Figueiredo vs. Joesph Benavidez 2 | Vacant flyweight title | July 18 |
| Robert Whittaker vs. Darren Till | Middleweights | July 25 |
| Stipe Miocic (c) vs. Daniel Cormier 3 | Heavyweight title | Aug. 15 |
This weekend's UFC 251 show is no different and would be a contender for card of the year had the quarantine never taken place given three title bouts atop the marquee and two more must-see women's fights to round out the PPV card. But Usman-Masvidal is not only the best fight that could be made in an already deep welterweight division, it's the one that needs to happen most.
Remember just last month when UFC was seemingly handcuffed by the narrative that a lack of a live gate would prevent its most popular fighters from getting back in the cage? That problem has apparently been resolved, likely from hefty site fees one would assume UFC is receiving for parachuting its Fight Island idea onto United Arab Emirates soil.
Fresh off a fighter of the year campaign in 2019 and a breakout year as a crossover celebrity due to his three victories by stoppage, Masvidal will now get the chance some 17 years into his unique career to find out if he's legit championship material. Usman, meanwhile, has a chance to cement himself among the pound-for-pound best in the sport.
The fight also offers the perfect style contrast between the mauling grappling game of the rinse-and-repeat Usman against the explosive striking of Masvidal, a former backyard fighter in Miami alongside the late Kimbo Slice who brings the kind of street credibility with him into the Octagon that very few contemporaries not named Diaz have ever dreamed.
It should also come as no surprise that this loaded card comes on the same weekend UFC originally planned for International Fight Week in Las Vegas. A fabricated fight holiday, UFC is closing in on a decade of using the second weekend in July as a mid-year showcase of how spectacular the brand can be when all hands are on deck.
This year, given everything we have been through globally, that showcase seems even more shiny for UFC.
White wins because his steadfast devotion to push ahead has kept his brand strong and finances booming for struggling parent company Endeavor under its lucrative deal with ESPN. Masvidal wins because he held out firmly on two occasions after being offered far less money during the buildup and waited for the promotion to call him on Saturday with a desperately attractive offer. And Usman wins for upgrading to a much bigger B-side that could only help in doubling his brand awareness with a victory.
But no one wins more than the fans, whose consistent happiness has long been the calling card of UFC's success, even if it has come at the expense of fighters at times. Only this time, the fighters are given a platform to work while most other sports have struggled to get out of the gate.
It's a testament to White's resolve and difficult legacy that is continually evolving. Four months ago, a maniac dreamer spouting off plans to purchase a private location not subject to laws or good taste, White is suddenly a Robin Hood figure bragging about avoiding layoffs while booking a summer full of loaded fights.
If Usman-Masvidal was the conclusion to White's magic show as the shiniest rabbit he could pull from a seemingly empty hat, consider us transfixed by the trick. Unprecedented times call for unprecedented measures and this is the first time a replacement main event might actually be a drastic improvement from what was originally planned.
Don't try to understand 2020, just make sure to enjoy it whenever you can.