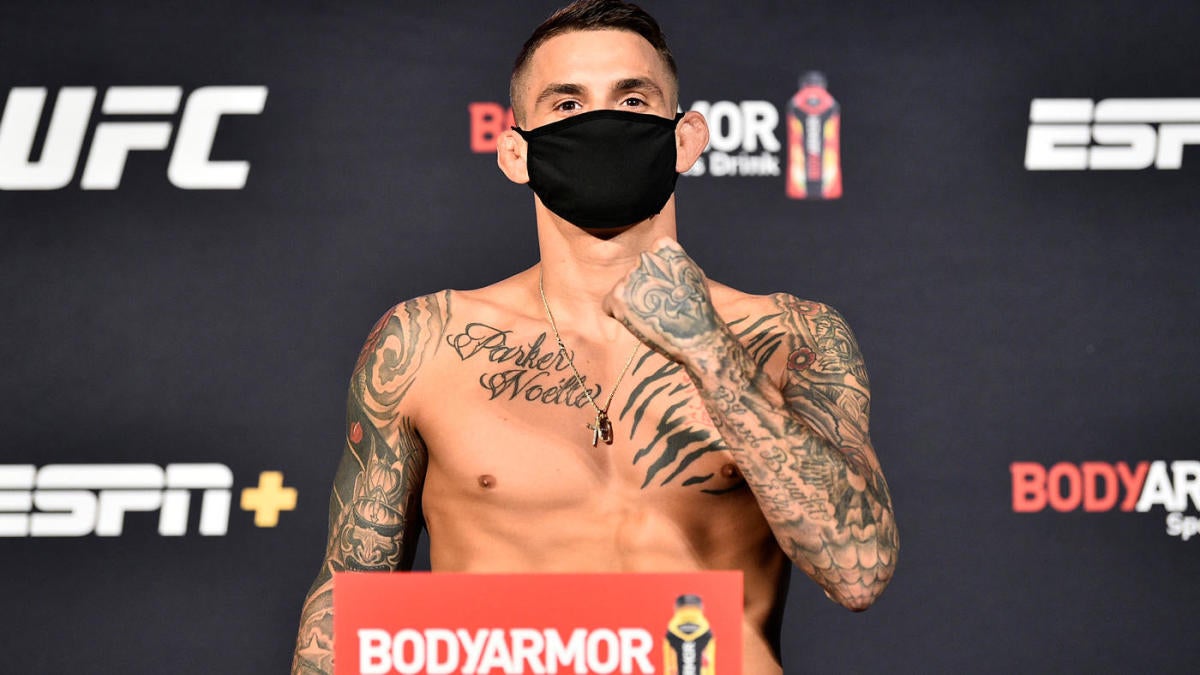 The confidence Dan Hooker exudes that he belongs within the upper elite in the UFC's vaunted lightweight division comes from a humble place.
While plenty confident, the 30-year-old Hooker isn't one to necessarily boast of his skills or spend time putting down those of his opponent. Yet when the native of New Zealand enters the Octagon on Saturday in Las Vegas for the biggest fight of his career against former interim champion Dustin Poirier, he believes in more about what makes him equal to his peers than what makes him different.
"I know I'm human, I know I'm not special," Hooker told CBS Sports' "State of Combat" podcast on Wednesday. "What separates me from those guys is, in turn, that nothing separates those guys from me.
"The only reason I come from a very small place in a tiny corner of the world and I'm now here in the most stacked division in the sport with the best fighters in the world is because I don't put them on a pedestal. I don't look at these guys as larger than life. I know I'm human and that if I get cut, I bleed. I know that if you grab my head and squeeze hard enough, I will go to sleep. Even though they are huge names in this sport, they are human like me and nothing separates us. All of these guys can be beat."
Can't get enough UFC? Subscribe to our podcast State of Combat with Brian Campbell where we break down everything you need to know in the Octagon, including exclusive interviews with Dustin Poirier, Dan Hooker and Mike Perry below.
Hooker (20-8) will enter the UFC Apex facility having won seven of his last eight, including impressive wins over the likes of Gilbert Burns, James Vick, Al Iaquinta and Paul Felder. Yet it's this opportunity against Poirier (25-6, 1 NC), who is fresh off of both hip surgery and a one-sided loss to champion Khabib Nurmagomedov, which allows Hooker a chance to find out if he's for real.
Like his journey into possible title contention, the road to Las Vegas wasn't an easy one in recent days as Hooker wasn't confirmed a visa until three days before he boarded an airplane. He hit a similarly rough patch in the road two years ago when he was stopped by Edson Barboza in a brutal fight that snapped a four-bout win streak and taught a lot of American fans about his toughness.
"I didn't learn anything I didn't already know," Hooker said. "I learned I'm not made of jellybeans. I learned I don't melt. Those are the things I knew. I had been in tough spots in my career but it's funny that no one was watching because they don't get brought up."
Although both of the elite 155-pound fighters endured less than ideal training camp conditions during a quarantine, both enter this fight on veritably equal terms. Poirier, a slight betting favorite, is one year older at 31 and has the decided edge in elite experience. But Hooker employs a very similar style of precision striking and will hold advantages of both three inches in height and reach entering the fight.
So what truly separates the two?
"I believe my experience, I believe my crispness in the pocket, I believe my intensity and my focus," Poirier told CBS Sports this week. "It's a lot of things and the list goes on."
While Hooker respects Poirier's game and sees a lot of similarities in their approach, versatility and determination, he believes his brand of craft is just that much better.
"I think I'm just a little sharper on the feet," Hooker said. "There is a lot of areas where he probably feels he has the advantage but I feel like I just have a little more understanding and am a little sharper in the striking."
When asked what's really at stake in this fight, Poirier said, "everything that I have ever worked for" and noted his want to avoid consecutive defeats for the first time in his career. Poirier also doesn't shy away from sharing the emotional pain he went through in losing to Nurmagomedov and snapping such a nearly historic win streak of elite foes.
"It sucks and it hurts but that's my story and that's fighting," Poirier said. "We pick ourselves up and get back to work and life goes on. Try to get better and try to learn the lessons from those fights.
"I have the ability to be the undisputed world champion. I know I do and I have a lot of years of fighting left in me. It could be around anyone's waist, I don't hold grudges. I would love to be the first guy to beat Khabib but this is a business. I just want to be the undisputed world champion."
Although both fighters believe it's possible the winner could be offered either Tony Ferguson or Conor McGregor as potential opponents as the division waits to see a proposed unification fight between Nurmagomedov and interim champion Justin Gaethje in September, Hooker thinks his big opportunity could come sooner.
"This puts me next in line," Hooker said. "Gaethje and Khabib will fight for the title and if one of those guys gets injured, I'll definitely be putting my hands up to slide into that spot.
"It's a funny position I'm in where it doesn't make sense for me to call anyone out. Correct me if I'm wrong but it doesn't make sense to call out Tony Ferguson, who is coming off a loss and recovering from damage, or call out Conor McGregor, who is sitting on the sidelines. I feel that I will be next in line for the title."
The main card sees five other fights of importance to follow as well. "Platinum" Mike Perry is back when he takes on Mickey Gall in the co-main event at welterweight. Perry made waves this week when he announced he would be joined in the corner by just one person: his new girlfriend. He has split from his camp and wife as he prepares to take on the wrestler in Gall and said he's hoping for some "peace and quiet" after each round to keep his focus.
Fight card, odds
Dustin Poirier -220 vs. Dan Hooker +180 — Lightweights
Mike Perry -340 vs. Mickey Gall +270 — Welterweights
Brendan Allen -300 vs. Kyle Daukaus +240 — Middleweights
Maurice Greene -220 vs. Gian Villante +180 — Heavyweights
Takashi Sato -260 vs. Jason Witt +200 — Welterweights
Luis Pena -260 vs. Khama Worthy +210 — Lightweights
Sean Woodson -490 vs. Kyle Nelson +370 — 150-pound catchweights
Philipe Lins -110 vs. Tanner Boser -110 — Heavyweights
Kay Hansen -175 vs. Jinh Yu Frey +145 — women's strawweights
Jordan Griffin -125 vs. Youssef Zalal +105 — Featherweights
Prediction
Hooker's surging ways and Poirier's unanswered questions regarding surgery, a layoff and the devastating loss to Nurmagomedov make this about as even a fight on paper as one could hope. This fight, along with Gaethje-Ferguson, might also be the best matchup UFC will present since this summer since the start of the quarantine.
One can expect a high-speed duel of striking from the standup where each will have a chance to show the mental toughness and chin that have taken them this far. The major difference could come from whether Hooker can use his length to dictate the terms of the fight.
Although Poirier was often out-landed by Max Holloway's volume while the two traded combinations in the center of the cage, Poirier made sure to end each exchange with the largest punctuation during their all-action 2019 bout. If he can do the same with Hooker and establish himself as the more damaging striker, it could be the edge he needs in a potentially close fight.
But that's if Poirier can be the same fighter of old. It's something that must be considered given Hooker's rising stock and noted durability.
If all things prove equal by the end of the 25 minutes and both are at the very best of what we have seen in recent fights, the oddsmakers appear to have gotten it right. It will also prove that it's too early to count out Poirier's chances of making it back to the top of the division again.
Pick: Poirier via unanimous decision
Who will win Poirier vs. Hooker, and how exactly will each fight end? Visit SportsLine now to get detailed picks on every fight on Saturday's card, all from the accomplished expert who's up nearly $21,000 and has nailed 11 straight main event winners.