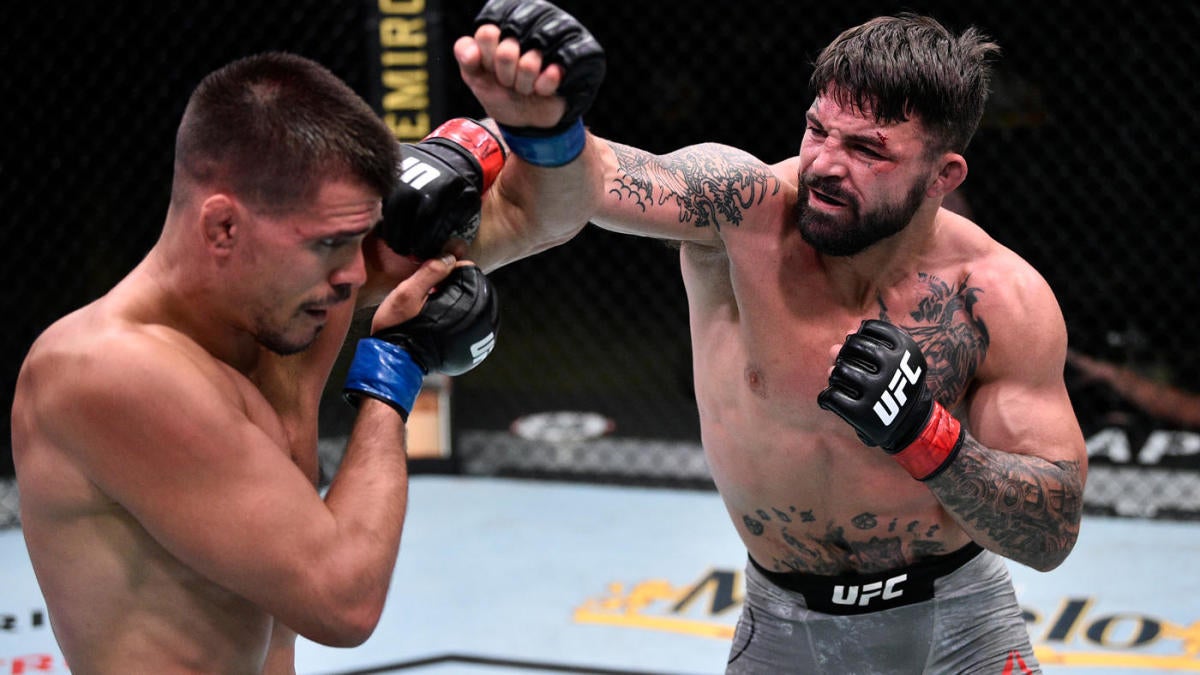 As brash and bombastic as they come in the UFC, "Platinum" Mike Perry relied much more on skill than sensationalism to snap a two-fight losing skid on Saturday in the co-main event of UFC Fight Night in Las Vegas.
Despite the controversial debut of his new girlfriend as his lone cornerman, Perry (14-6) brutalized Mickey Gall over the final two rounds and dominated the grappling exchanges to take home a unanimous decision (29-28, 29-28, 29-28) inside the UFC Apex facility.
Gall (6-3) showcased his improved striking in the opening round as Perry attempted to head hunt, but once Perry was able to establish advantages in punching power and strength in the clinch, he began to tug on the 28-year-old Gall's gas tank.
"It's all up to me, every time we get in there. It's all up to me," Perry said. "I put the training camp together. It was necessary. I did what I needed to do to get the win."
Perry delivered a number of volatile interviews leading up to the fight and appeared to be unhinged while defending his decision to name the inexperienced Latory Gonzalez as his trainer. But Gonzalez's wisdom wasn't needed on this night as Perry looked like the fitter, stronger and more experienced fighter while improved to 7-6 overall in the UFC.
Can't get enough UFC? Subscribe to our podcast State of Combat with Brian Campbell where we break down everything you need to know in the Octagon, including a breakdown of Perry vs. Gall with Hall of Famer 'Suga' Rashad Evans below.
"Mickey trained a lot. He came in with a respectable team who had a game plan with him. The kid came in and fought tough," Perry said. "Give Mickey credit since y'all going to take the credit away from me anyways and 100% of y'all was talking that mess online. You were picking him and I won so now don't take it away from me and say he doesn't have any experience. He has way more experience than any one of you guys in the street or in the Octagon got."
Despite counter shots from Gall opening up a cut below Perry's eye in the opening round, "Platinum" had little trouble from there. He blocked a kick attempt from Gall to close the round before landing a reverse slam.
In Round 2, Perry dropped his opponent late with a clubbing right hand and a follow up that landed behind the head. Perry worked to full mount and landed vicious elbows before the horn to the end the round. In the final round, Perry took down an exhausted Gall with ease and worked heavy ground and pound to secure the win.
"I trained for this like a professional and I made weight like a professional," Perry said. "Look at my physique, I look better than 99% of UFC fighters. Only Francis Ngannou might have something on me.
"I'm going to go find a training camp and some teammates. I'm looking to move to south Florida and I'll be around. I'll take some knowledge from you guys and we'll see. I have to make some moves and take this money and move to a new area, me and my girl. There are some big things happening in my life and I'm going to go put some things together. I have to go pay some bills and pay some debts."
It was Perry's first win in 14 months and moves his record to 3-5 since 2018. Gall, meanwhile, falls to 2-3 since 2017 and has alternated wins and losses over that time.