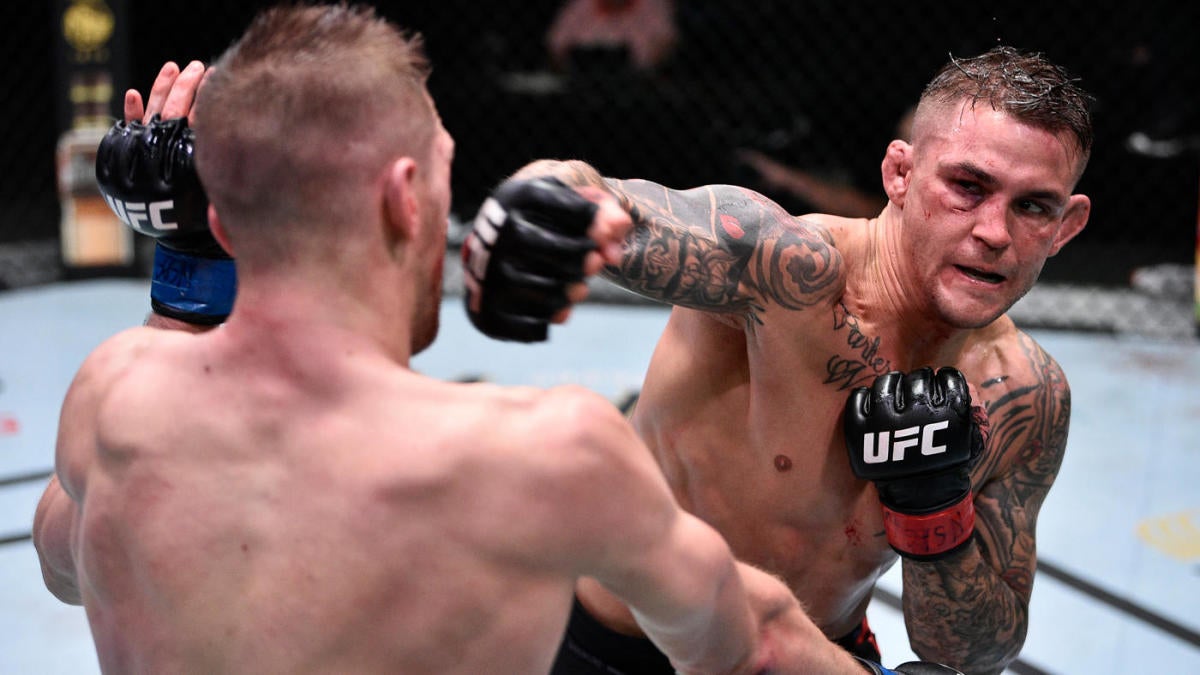 A showcase of technical masterpiece and courageous will, Dustin Poirier's unanimous decision over Dan Hooker on Saturday throughout five incredible rounds in Las Vegas was hailed instantaneously as a candidate for Fight of the Year. Two elite fighters, fueled by the lure of a future title shot, left everything they had in the center of the Octagon to produce an instant classic that served as the perfect example of mixed martial arts at its very best.
Yet for all the praise the dramatic bout rightfully earned as a compelling piece of savage theater, it's merely par for the course to what UFC fans have become conditioned to expect from the 155-pound division over the past three years.
If the current coronavirus pandemic has taught us anything, it's that all underlying truths will eventually find their way to the surface regardless of how hidden or buried.
So we might as well just come out and say it already: We are living in a golden age of UFC lightweights.
Furthermore, fights like Poirier-Hooker or the fantastic UFC 249 slugfest contested for the division's interim title between Justin Gaethje and Tony Ferguson in May should have been more than enough to lend credence to another fact.
Can't get enough UFC? Subscribe to our podcast State of Combat with Brian Campbell where we break down everything you need to know in the Octagon, including a breakdown of Poirier vs. Hooker with Hall of Famer 'Suga' Rashad Evans below.
This might be the greatest division in the history of the UFC at any given point.
It sounds crazy, right? I can almost hear your brains churning with counter-fire such as …
"What about the insane depth we currently see at bantamweight? And, dude, it's not like featherweight or welterweight is much further off. And how about the constant bangers and seemingly endless list of viable contenders from your beloved women's strawweight division? And, hold up, what about that era a full decade ago at light heavyweight that saw one Hall of Famer after another trade the belt until Jon Jones finally claimed it as his own?"
Nope. Sorry. Can't do it. The UFC men's lightweight division is just too insane.
Even with a dominant champion in Khabib Nurmagomedov who hasn't surrendered more than a single round throughout his UFC career and employs a methodical style casual fans may have a hard time getting up for, the division is still the best UFC has ever seen.
Having a reputation for constantly producing all-action fights isn't the sole foundation of what makes a G.O.A.T. division. It sure doesn't hurt, however, and lightweight has provided so many in recent years from Poirier's tangle with Max Holloway, Gaethje and Eddie Alvarez to just about any fight featuring the likes of Hooker, Kevin Lee, Edson Barboza, Charles Oliveira, Paul Felder and Al Iaquinta. And that's not even mentioning Ferguson.
| CBS Sports Lightweight Rankings | Record |
| --- | --- |
| 1.Khabib Nurmagomedov (c) | 28-0 |
| 2. Jusitn Gaethje (ic) | 22-2 |
| T3. Tony Ferguson | 25-4 |
| T3. Dustin Poirier | 26-6 |
| 5. Dan Hooker | 20-9 |
| 6. Conor McGregor | 21-4 |
| 7. Charles Oliveira | 29-8 |
| 8. Paul Felder | 17-5 |
| 9. Al Iaquinta | 14-6-1 |
| 10. Islam Makhachev | 18-1 |
That's what separates lightweight from everyone else. It's not just the potential violence or the frequency in which it happens, it's the fact that most of these action-packed classics have been contested at an extremely high level of skill, with Poirier-Hooker being the prime example.
If we're grading heavily on star power when comparing lightweight to other historic eras, the crop of names which congregated at 205 pounds almost 10 years ago are hard to beat. From Jones and Rashad Evans to Quinton "Rampage" Jackson, Lyoto Machida and Mauricio "Shogun" Rua to Forrest Griffin and Dan Henderson — it's a who's who of legends that emerged from the post-Chuck Liddell and Tito Ortiz era.
But this current crop of lightweights seem to have an interchangeable nature to it that allows for incredible compatibility inside the cage and a number of entertaining classics merging skill and IQ with all-out warfare because of a single intangible ingredient: they are all a bunch of savages. All of them. And they are willing to risk it all inside the cage nearly every time out.
It might just be the size of the fighters that dictates an inherent advantage. Like its boxing equivalent of middleweight (160 pounds), which many have considered historically as possibly the perfect division given intersection of speed, size and power, the UFC lightweight division just might be that perfect sweet spot at 155 pounds as the intersection between small and large fighters.
That alone, however, doesn't completely explain it. Sometimes it's just the right place, the right time and the right group of future all-time greats, many of whom either currently or previously have resided among the top 10 pound-for-pound in the sport.
That's what we are dealing with right now at lightweight, which has a stunning number of championship-worthy contenders that go beyond the big hitters of Nurmagomedov, Gaethje, Ferguson, Poirier and Hooker. The division is also loaded with household names in and around the weight limit who are never out of the conversation to cut down if the money is right including Conor McGregor, Nate Diaz, Anthony Pettis, Donald "Cowboy" Cerrone and even Jorge Masvidal, who recently shared interest in facing Nurmagomedov.
This wasn't an easy spot to get to for the division, remember that. From McGregor holding the title hostage during his multiple hiatuses to the fact that Nurmagomedov-Ferguson still remains cursed, injuries and bad luck have routinely robbed fans of many superfights.
It's time now to fully realize what's in front of us and remain excited about how many insanely great matchups that have yet to take place — Poirier-Ferguson, anyone? — just might be coming soon, along with those like Nurmagomedov-Gaethje that we can't wait for.
It doesn't get any better than this.