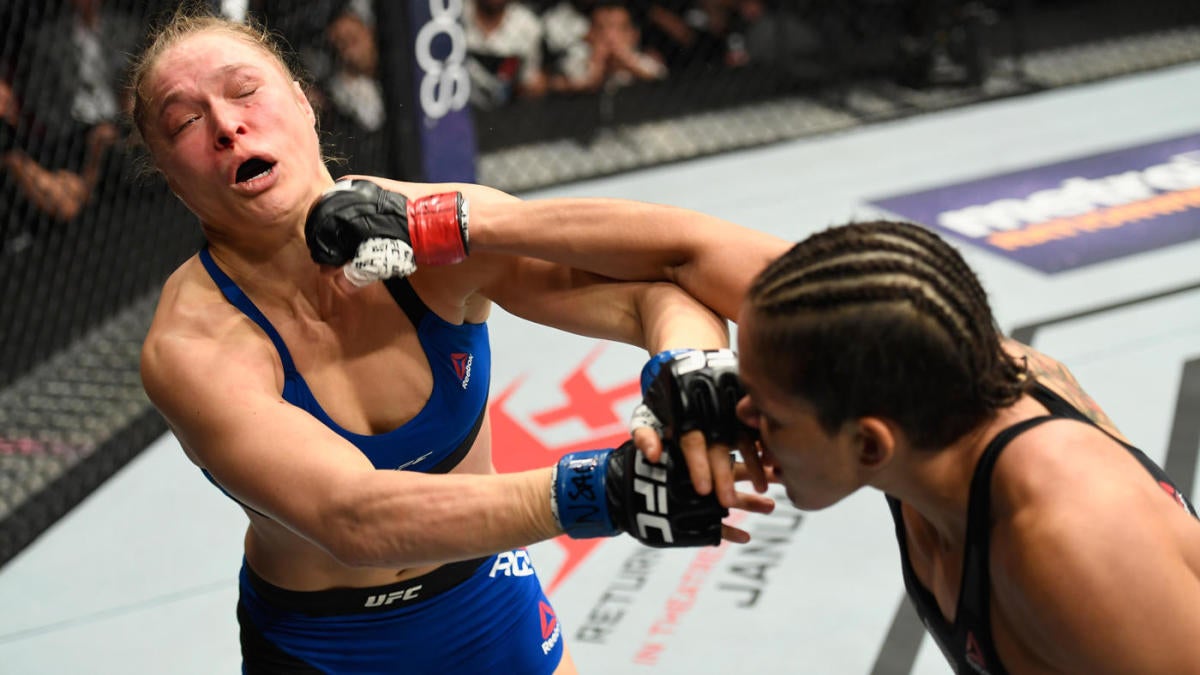 Predicting results in a chaotic sport where fights can end in a variety of ways, both expected and unexpected, can be a fool's errand at times. While there are plenty of bad picks that are just the cost of doing business, sometimes, experts can make spectacularly bad picks that stand out from the hundreds or even thousands in a career.
Rather than going back through a decade or more of personal history, the CBS Sports MMA crew looked back over the past five years and each determined their own worst prediction. Let's dive right into them below.
Brent Brookhouse — All of UFC 241 (August 2019): Given we limited our choices to the past five years, I won't be discussing the night in 2008 I went on record picking both Tim Sylvia to beat Fedor Emilianenko and James Irvin to beat Anderson Silva, an all-time bad pick situation. UFC 241 was my first event on the CBS Sports staff and I was all-in on showing off with a good round of picks. Instead, I went 0-5, thinking Daniel Cormier would grind down Stipe Miocic and Anthony Pettis would be too fast for a rusty Nate Diaz. As I wrote at the time, "Pettis also fights much more like the guys who Diaz has lost to than the guys he beats (McGregor aside). I'm expecting Pettis to get in and out too quickly and mix things up too much for a rusty Diaz to adjust to in a three-round fight."
Pettis? Dominated. Cormier? Knocked out. "Slick" upset pick Gabriel Benítez? Knocked out by Sodiq Yusuff in Round 1. No one pick stands out as particularly offensive, but in the moment where you want to show off your knowledge for a new audience — including new co-workers — there's few things as embarrassing as a giant whiff on every pick your first time out.
Brian Campbell — CM Punk over Mike Jackson (UFC 225, June 2018): The second fight couldn't go much worse than the first, right? That was part of my thinking in picking Punk, the aging and former WWE superstar, to right the wrong of his embarrassing debut when Mickey Gall, a guy who actually can fight, demolished him in just over two minutes. In my defense, Punk was being matched favorably this time with Jackson, a part-time fighter and full-time MMA videographer, who wasn't much different from Punk and lasted just 45 seconds in his bout against Gall. It turns out, the UFC just wasn't the place for the man legally known as Phil Brooks as he made Jackson look more like "Rampage" than Mike. Face palm. UFC never should've allowed Punk this type of platform a second time yet by letting him melt a second time it probably made sure no other promotion would want to either.
Campbell — Conor McGregor via KO over Khabib Nurmagomedov (UFC 229, October 2018): Let's just get this out of the way: I fell for the whole "Mystic Mac" thing. Hard. I believed in that undefinable element of "magic" that McGregor seemed to have in wins over Jose Aldo and Eddie Alvarez, just to name a few, where his will alone could manifest something your eyes told you wasn't likely. But two years removed from the Octagon and, as we found out years later, far from completely dialed in as it pertained to his preparation and discipline outside the cage, McGregor was absolutely no match for an angered Nurmagomedov and his suffocating wrestling attack. We all secretly entered that fight wondering what would happen the first time McGregor's patented left cross touched the chin of "The Eagle." It turned out to be nothing. And by the time Nurmagomedov shocked the world by knocking McGregor down clean in Round 2 with a right hand of his own, the ending became a formality.
Jack Crosby — 0-5 at UFC 226 (July 2018): On July 7, 2018, I didn't just provide one incorrect prediction, I managed to implode on the entire UFC 226 main card. I took all the flak from my co-workers for a good time afterwards, and deservedly so; you almost have to try to go 0-5 on a UFC main card. As Daniel Cormier steamrolled through Stipe Miocic en route to the UFC heavyweight title, the embarrassment rushed over me as I realized I had whiffed entirely, and I'll admit I remember being very confident in a couple of those picks. I was convinced Francis Ngannou was going to light up Derrick Lewis. Instead, they sleepwalked through one of the most uneventful fights in UFC history with Lewis emerging victorious. I was convinced Michael Chiesa was going to send Anthony Pettis packing. Instead, Chiesa was left tapping. I still maintain, however, that had the featherweight title fight between Max Holloway and Brian Ortega gone on as planned, I would have been saved this embarrassment because I would surely have selected a healthy "Blessed" to retain. But, you know … hindsight is 20/20 and such, so I have to live with this fateful night in July for the rest of my career.
Brandon Wise — Volkan Oezdemir over Daniel Cormier (UFC 220, January 2018): I wish I could chalk this up to something as easy as "Volkan's a huge underdog, there's so much value on him!" Sadly, I really thought this was going to happen. Coming off his TKO loss to Jon Jones (later overturned to a no contest), I thought Cormier's brand had been hurt and he was susceptible to getting knocked out more later in his career. It didn't hurt that Oezdemir was coming off two straight knockout wins that lasted all of one minute and 10 seconds combined.
The hype was real and, yes, the value seemed off to me at the time given Cormier was around -350. This explainer from our predictions sums up the stupidity in my thought process.
"Ever since his shocking stoppage of Misha Cirkunov, I have been on the Oezdemir train. Whenever he is able to get within range of his opponents, they suddenly collapse from his powerful punches. It is almost a story out of fiction, but the power he currently possesses is almost unheard of in the sport. Expect Oezdemir to put the pressure on Cormier as soon as he can to finish this fight off before it gets into the later rounds where DC is known for grinding out victories on the ground."
Woof. Oezdemir looked overmatched from the opening bell and it was only a matter of time before Cormier could close the show in the second round. Oezdemir lost two straight after that before righting the ship in August 2019. Cormier, meanwhile, proved me wrong again in knocking out Stipe Miocic for the heavyweight title in July 2018.
Wise — Ronda Rousey over Amanda Nunes (UFC 207, December 2016): Like my colleague Brian Campbell, let me get this out of the way now. I did not believe in Amanda Nunes in 2016. I also believed there was a bit of a fluky nature to Rousey losing her title against Holly Holm a year prior because of a hectic schedule and seemingly forcing an extra fight into her year. The title seemed to be changing hands so often that Rousey would regain her throne as the baddest women on the planet with relative ease….
Boy … that blew up in my face with the quickness.
Not only did Nunes show just how deadly she can be in the striking game, but she exposed (again) the major flaw in Rousey's game. Despite being the betting favorite heading in (mostly on name recognition and value), Rousey was destroyed in the stand up game while not keeping her hands up in just under a minute. It was decidedly a coming out party of Nunes to the world despite already being the champ, but one that left many of us in the prediction world with egg on our face.